Release Notes
Maintenance items, fixes, and new features for CxEngage and CxQM are released as needed throughout the year. This release note reflects changes to CxEngage and CxQM that were made since the last release.
---
You can find release notes for recent releases below.
Historical release notes can be found in the Release Notes Archive.
 
To receive email notifications for

CxEngage

platform issues, subscribe to updates from status.cxengage.com . Please check this page regularly for release details.
---
Important: Following a release, you may need to clear your cache and browsing history for changes to be reflected.
Some updates require a reload of your browser.
In Chrome on Windows, press CTRL + F5.

In Chrome on Mac, press Command + Shift + R.
For best results, after performing a reload, log out of and then log back into CxEngage.
Skylight and CxEngage are optimized for Chrome. Reload instructions may vary for other internet browsers.
---
What's New
Here is a summary of the features and fixes included with the latest release(s).
CxEngage

Release 23.11.29
All Regions
November 29, 2023
Update: Data Complete Flag in Interactions API
Previously, when an End Timestamp was available on the interactions API, the interaction was considered complete and ready to be processed by other applications, such as a Business Intelligence utility. Because Wrap Up activities and other post-conversation events take place after an End Timestamp is logged, some information was not included when interactions were processed before post-conversation values were updated.
So that you can ensure that an interaction is complete and ready to be reviewed or processed, a new dataComplete parameter has been added to the Interactions API.
The dataComplete parameter can have a value of true-the interaction is complete, or false-the interaction is not complete and is found in all historical APIs.
Update: Allow Zero CSAT Score
An enhancement to the Customer Satisfaction Score collection configuration allows you to accept zero (0%) as a customer response. To enable your score range to begin at 0%, toggle the Allow Zero Score setting to On in the Customer Satisfaction Score parameters. CxEngage will accept an input of 0 up to the Max Score you define in the parameters.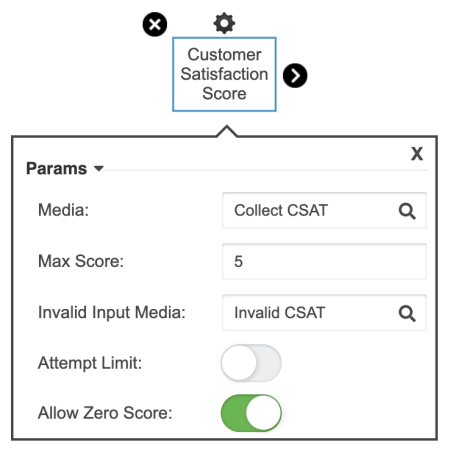 Note: Temporarily, zero % CSAT scores display as % in reporting, with no number in front of the %. Calculations using zero scores are accurate. The display of 0% in reporting will be updated in a future release.
Fix: CSAT Notation is Accepting Improper Values (CXV1-30001)
Previously, the defined parameters for collecting the CSAT score were not being honored.
When the customer exceeded the defined Maximum Attempts to enter a CSAT score or entered a value higher than the allowed Max Score, CxEngage still saved the last entered value.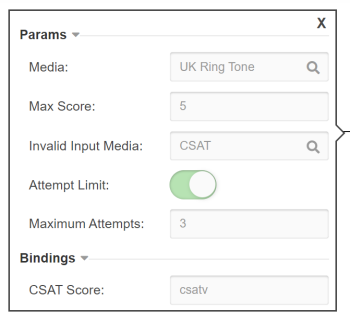 This issue has been fixed. If the customer exceeds the maximum number of attempts or the last attempt exceeds the maximum score allowed, CxEngage disregards the entry (entries) and does not save the CSAT score.
---
Recent Releases
Select a release date for a summary of the features and fixes included with that release.