Lists
Tenant Administrators can create generic lists. Generic lists allow you to create customized lists of information that can be used by flow to lookup information or make routing decisions. To leverage Generic Lists, you first need to request a new list type to be created. This can be done by contacting your account representative or by opening a ticket with the support team. Generic Lists support the following field types: string, boolean, and number. The first field must be a string and will be a required field. All other fields can be required or optional.
Viewing a List
Users with the VIEW_ALL_LISTS role permission can view list details in the configuration console.
To view the lists available in a tenant: 
Go to Configuration > Lists.
The available lists are displayed.
Click the list that you want to view.
The list detail panel appears. The list details include the list item names, codes, and descriptions.

Finding a List
If the tenant includes many lists, you'll want a quick way to locate the list you want to work with. The user interface provides several methods for you to find the list that you are looking for.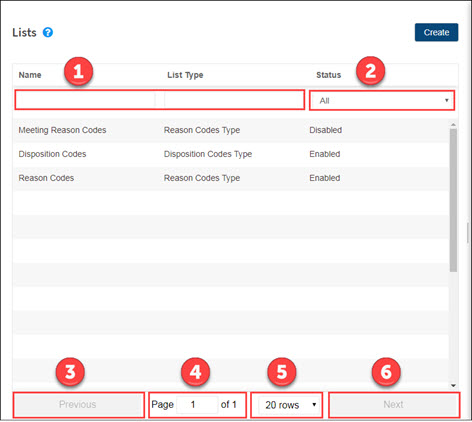 |   | Actions |
| --- | --- |
| 1 | Use the text boxes at the top of either the Name or List Type column to filter the table. After you type a keyword in the text box, the table updates to display only the lists that match your keyword. |
| 2 | Use the drop-down menu at the top of the Status column to view only enabled lists or disabled lists. The default view is all lists. |
| 3 | Click Previous to return to the previous page. This option is not available on the first page of the table. |
| 4 | Type a page number to advance directly to that page. |
| 5 | From the drop-down menu, select an option for how many rows to display in the table. If you select an option that displays more rows than can fit in the panel, a scroll bar is provided to the right of the table. |
| 6 | Click Next to advance to the next page. This option is not available on the last page of the table. |
---
You might also be interested in: