Tutorial: How to View Email Transcripts with the Interaction Data Set in
Historical Reporting
In this tutorial we will configure the joinable data sets Interaction and Interaction Agent to view email transcripts.

Create an Analysis and Configure Global Filters
To create a table in Analysis, go to Reporting >

Historical Reporting

.
In the sidebar, click () Analysis .
| | |
| --- | --- |
|   | Your work within Analysis is auto-saved as Untitled Analysis on Home page. |
To name the Analysis click the () gear.
a. Click Rename.
b. Enter a name (For example, Email Transcript Report).
c. Click Save.
Configure the global filters to determine your subset of data.

Click Apply.
Select your Data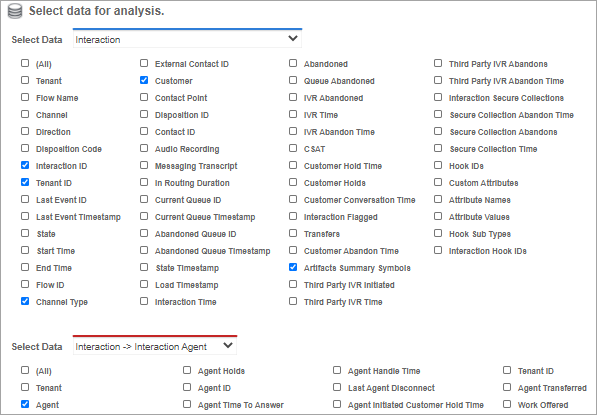 Under Select Data, select Interaction. A display table loads with preselected metrics: Interaction ID, Tenant ID, and Channel Type.

| | |
| --- | --- |
|   | The Interaction ID and Tenant ID metrics need to be selected to view transcripts. |
Remove the Channel Type by clicking on the check.
Click the checkboxes for Artifacts Summary Symbols, Channel, and Customer to add them to the data table.
Under the second Select Data, choose the Interaction ->Interaction Agent data set join.
In the Interaction Agent data set, select Agent by clicking the check box.
Click OK.
The table loads with the selected columns.
View the Email Transcript
An envelope icon (

) appears in the column when an email transcript is available.

To view the transcript:
Click on the envelope icon (). The transcript will appear.

 

Further Recommendations:

You can select additional metrics after building your data set by clicking the Data tab, adding more metrics, and clicking OK.

To only see the Email channel work items, apply a filter by clicking the Filter tab. Then filter the Channel column equal to (=) Email. This will remove any Channel work items that may be applicable to your business (for example, Voice).

You can add a Start Time metric to sort the columns in a time or date order. Start Time can be found in the Interaction data set. You can reload the data table by clicking OK.

You can group the table by the Customer ID.
Congratulations!
You've created a data table to view email transcripts.